Mac's Driving School is a California state licensed organization of driver education & training which is foremost in its field serving the Tehama County and its surrounding areas.
Choosing the right Driver Education program for your teen is one of the most important decisions you will make as a parent. Teen driving a motor vehicle is the leading cause of fatal injury among our nation's youth and potentially the most deadly activity a teenager will be involved in on a consistent basis. Our comprehensive program, offered at a reasonable price, emphasizes driver's responsibility and the attitudes that promote safe, defensive driving and high quality driving training.

If you looking for more convenient but not as intensive as the classroom course we also offer our 30 hour Online Drivers Education.

When you are finished with our course we will send you your completion certificate.

Our website is very easy to use, When you Register, you can choose your own password and username and gain access to the course.
Drivers Education Online Course $49.95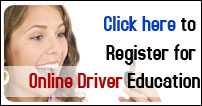 Business Address: 4910 Houghton Ave Corning, CA 96021
©2010 All Rights Reserved.